Autodesk Inventor Professional 2017 is a powerful complex of tools for 3D engineering design, creation of mechanical units, make proper documentation and simulate real world conditions to test a project. It is much more than simple parametric modeling. The Autodesk Inventor Professional 2017 release offers extra modeling flexibility, supports any CAD data and provides advanced automation for most processes.

What is new in Autodesk Inventor Professional 2017?

Major enhancements made to the Autodesk Inventor Professional application of 2017 are customer driven. The top improvements have touched upon key design tools. The software now offers new capabilities for lead engineers managing general projects.

The Autodesk Inventor Professional 2017 edition offers improved Shape Generator providing more precise controls of shape creation, ensures best optimization of the basic geometry for modeling and designing structurally efficient lightweight parts, modules and units.

Improved 3D mechanical design ensures fast and simple rendering of data from any source into 3D projects.

The Autodesk Inventor Professional 2017 edition perfectly manages the data acquired from large assembly designs.

The application supports free-for modeling combining free form and parametric modeling processes.
Plastic parts design is another essential option of the application which ensures using industry data and re-optmized plastic during design changes. This helps to reduce costly changes of machinery and tooling during production process.

Unlike other versions of Inventor this Professional edition of 2017 supports conceptual design exploration.

Another major improvement of the Autodesk Inventor Professional 2017 is checking for manufacturability – the option which allows to estimate all physical parameters of a product, to simulate its operation in real world conditions to detect mistakes before the project is set to production. This allows to reduce costs on creation and testing of prototypes. Moreover it minimizes the chances for setting to production a defective model.

Enhanced interoperability due to supporting all formats of files created in other engineering design products by AutoCAD. Thus you can create and design your products in various environments without a need of exporting or converting the file into a proper format.

Advanced revision management capabilities allow for better control over design data. It ensures fast finding and reuse of engineering design data and easy management of design and engineering data.

With Autodesk Inventor Professional 2017 you will be able to engage anyone to reviewing of the project by converting your project into a 3D PDF file. This ensures communication over project even in terms of absence of specific software reading a required file format. With this option anyone having Adobe Reader will be able to view the project.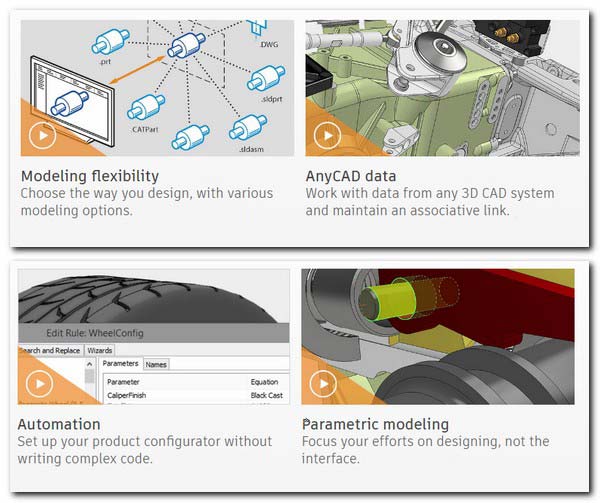 Array

Array

Array

Array

Array

Array Guys, thanks a lot for your excellent service. I couldn't even imagine that the work of online store could be so fast. I placed an order, paid it and the support team sent me a link where I could download the program I bought. This is a very convenient service! You don't make me wait for delivery for several days. I am the happiest customer! I have just bought Autodesk Maya 2016 and I want to thank the team of procadeng.com. I was surprised by your profitable offer. It's cool! I downloaded the program almost at once after purchase. You surprised me by your immediate service! At once after purchase, I faced a problem with installation. I bought CAD software for the first time. That's why I didn't know all peculiarities of installation process. When I bought software from the other online stores I got used to the fact that they didn't care about their customers. I was surprised that the support team of this store answered me and gave recommendations concerning the installation. I quickly solved my problems due to them.