Autodesk AutoCAD Civil 3D 2017 is an essential Autodesk project for engineering of roads, highways, civil buildings as airports, railroads and other infrastructure elements. The 2017 release features improved delivery of projects, better consistency of data as well as instant response to changes brought in the project. The software assists engineering and architectural businesses to streamline the workflows and ease the completion of simple, but time consuming design tasks. The software offers ready to use solutions for every type of tasks a designer may get.

With Autodesk AutoCAD Civil 3D 2017 you will enjoy seamless project progressing as approval, commenting, reviewing of the project takes place in a single environment minimizing the chances for the task being unnoticed.





The Autodesk AutoCAD Civil 3D 2017 release features 13 new tools, updates and improvements of user experience and software performance:



Now you can create and simply share shortcuts of data for corridors


Improved roundabout drafting and design


Corridors serving for designing site features


Specific tools for modeling corridors edges and corners are added to perform cleanly


Advanced content for pressure in pipes and valves is added


New tools for extracting specific data from corridors and other objects


Designing feature lines without necessity to set a new site.


A new reference styles utility is realized for better management


Automated data changing and updating


Improved data setting for a designed object


Now civil drawings are shared even more broadly


Better data organization due to new subfolders features


Simplified drag and drop mode for creating of references


How Autodesk AutoCAD Civil 3D 2017 can help your business?
The software ensures steady cost optimization for a project as in-built tools allow to calculate and evaluate the implemented solutions more precisely. Specific tools allow estimating the terrains to consider particular qualities of land.
Autodesk AutoCAD Civil 3D 2017 ensures complex development of all civil utility lines in the project. Thus if you are projecting a summer camp, with this only application you will be able to estimate the terrain, to project buildings, indoor and outdoor constructions, water supplies. Due to all the tasks being realized in a single environment you save costs, time and efforts. Besides, you minimize the mistakes which are inevitable when exporting and importing a project from one software into another.
Autodesk AutoCAD Civil 3D 2017 ensures bringing in dynamic adjustments into the project being sure that all the changes will be automatically applied to all the versions of the project including drafts and drawings.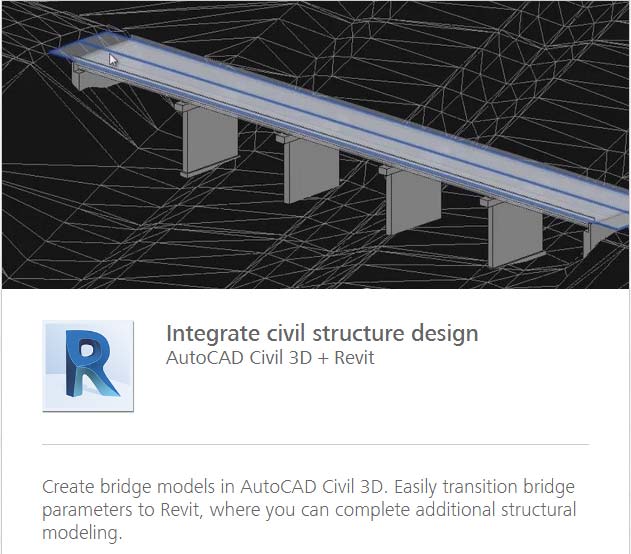 Array

Array

Array

Array

Array

Array

Array

Array

Array

Array

Array I've been using Autodesk Revit 22 for a few months now, and I have to say that it has made a huge difference in my work. I found the software by fantastic price on procadeng.com and decided to give it a try. I'm glad I did - the price was great and the software was delivered quickly and without any issues. I recently purchased Autodesk Civil 3D from procadeng.com and I am extremely satisfied with my purchase. The software has a lot of advanced features that have really helped me with my civil engineering projects. One of my favorite features is the intelligent model and toolset for designing and documenting land development projects. It has saved me a lot of time and effort compared to using traditional drafting methods. Another feature that I really like is the integration with other Autodesk software, such as Revit and AutoCAD. This allows me to seamlessly share data and collaborate with my team members on projects. I recently switched to AutoCAD 23 for my design work and I'm loving it. The software is very powerful and has a lot of advanced features that make my job easier. I found the Autodesk AutoCAD deal on proCADeng and decided to give it a try. I'm glad I did - the price was great and the software was delivered quickly and without any issues.
AutoCAD Civil 3D Software