Autodesk 3ds Max 2017 is the latest graphic creator for professional designers of games and virtual reality projects. It features new customization tools, advanced collaboration workflows, faster and more powerful command execution. Now creation of 2D and 3D objects, modeling of massive virtual worlds, animation of objects and reality have got simpler and easier. The software is created and optimized for experts in design visualization.

Autodesk 3ds Max 2017 ensures fast, easy complex modeling to simply create anybody, any reality, any environment. Amazing rendering features ensure smooth working with major renderes as V-Ray and others. This option allows for creating ultimately realistic scenes and striking visualization.

The latest edition has got top power animating software to simply create any real creatures or existing only in your imagination. From now on the software is an optimum choice for companies developing the virtual reality for users in games, applications, architecture.
This version of software features improved compatibility and now supports and renders objects created with other Autodesk products as Revit, Fusion 360 or SketchUp.


New features of Autodesk 3ds Max 2017

3D graphics

In terms of 3D graphics creation the users of Autodesk 3ds Max 2017 will notice enhanced animating productivity. Object animating process has become more responsive.

Another improvement has touched upon text editing enabling a designer to add data driven info blocks right to a created scene.

In terms of printing Autodesk 3ds Max 2017 has got an option of one-click access to Print Studio.

The most improvements have touched upon the user interface of the software. From now on the users will enjoy:

• fast and simple access and browsing of all 3D content stored in the environment

• support of HDPI monitors to ensure better workflow and add more comfort for a creator

• simpler and faster process of data simulation importing – the software supports animation of simulating data in top formats as CFD, OpenVBD, CSV and others

• more precise creation of architectural objects with new ART – retracer renderer

• creating better textures and objects with new tools – simply create new textures, copy realism of existing textures, create and edit objects as well as simply create text graphics with 2D tools

This Autodesk 3ds Max 2017 version offers users an all new creative store of 3D content to get the best artworks in 3D. This is a great time saver when you need a certain element and can just get it without wasting hours for creating it from scratch!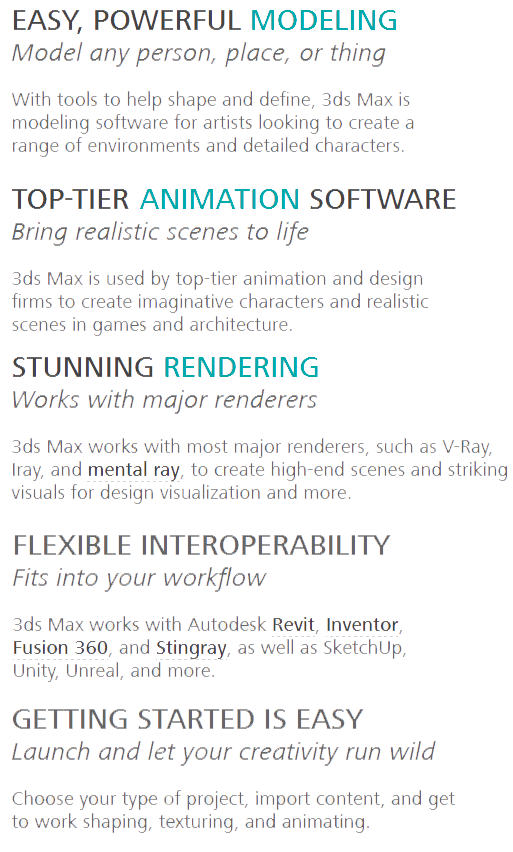 Array

Array

Array

Array

Array

Array

Array AutoCAD has been used by our engineering firm for nearly 30 years as its main drafting program. Although Revit has been adopted, AutoCAD is still used for projects that do not require 3D parametric design. I purchased the Autodesk AutoCAD 2022 for my architecture firm and we've been using it for the past few months. The software is reliable and user-friendly, and it has saved us a lot of time and effort on our projects. The price was also very competitive compared to other retailers. I would definitely recommend this deal to anyone in need of AutoCAD software. All I can say is that I like how these guys handles my order. They offered me a download link which contained both the setup instructions and the basic software. I installed it according to the setup instructions then I managed to rub Revit 2020 without any problems. Just make sure to have free RAM because I had a little problem with that. Lucky for me their support line helped me in clarifying this problem.