Autodesk 3ds Max 2017 is the latest graphic creator for professional designers of games and virtual reality projects. It features new customization tools, advanced collaboration workflows, faster and more powerful command execution. Now creation of 2D and 3D objects, modeling of massive virtual worlds, animation of objects and reality have got simpler and easier. The software is created and optimized for experts in design visualization.

Autodesk 3ds Max 2017 ensures fast, easy complex modeling to simply create anybody, any reality, any environment. Amazing rendering features ensure smooth working with major renderes as V-Ray and others. This option allows for creating ultimately realistic scenes and striking visualization.

The latest edition has got top power animating software to simply create any real creatures or existing only in your imagination. From now on the software is an optimum choice for companies developing the virtual reality for users in games, applications, architecture.
This version of software features improved compatibility and now supports and renders objects created with other Autodesk products as Revit, Fusion 360 or SketchUp.


New features of Autodesk 3ds Max 2017

3D graphics

In terms of 3D graphics creation the users of Autodesk 3ds Max 2017 will notice enhanced animating productivity. Object animating process has become more responsive.

Another improvement has touched upon text editing enabling a designer to add data driven info blocks right to a created scene.

In terms of printing Autodesk 3ds Max 2017 has got an option of one-click access to Print Studio.

The most improvements have touched upon the user interface of the software. From now on the users will enjoy:

• fast and simple access and browsing of all 3D content stored in the environment

• support of HDPI monitors to ensure better workflow and add more comfort for a creator

• simpler and faster process of data simulation importing – the software supports animation of simulating data in top formats as CFD, OpenVBD, CSV and others

• more precise creation of architectural objects with new ART – retracer renderer

• creating better textures and objects with new tools – simply create new textures, copy realism of existing textures, create and edit objects as well as simply create text graphics with 2D tools

This Autodesk 3ds Max 2017 version offers users an all new creative store of 3D content to get the best artworks in 3D. This is a great time saver when you need a certain element and can just get it without wasting hours for creating it from scratch!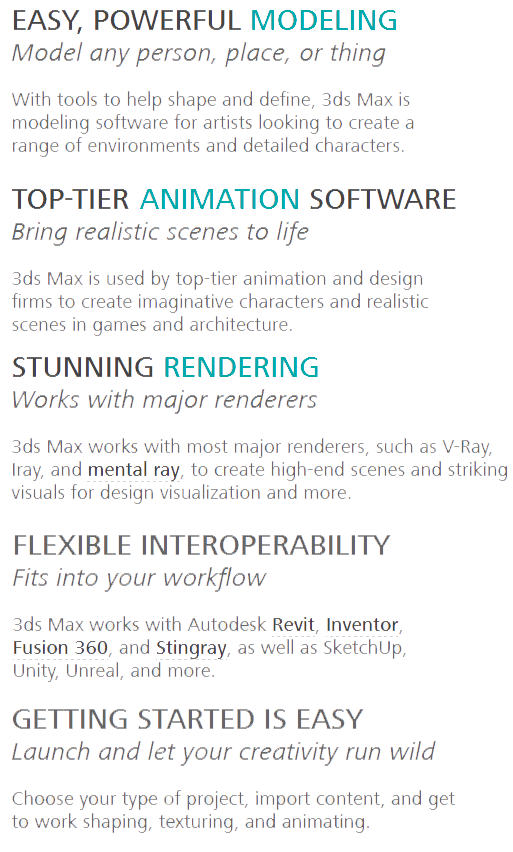 Array

Array

Array

Array

Array

Array

Array When you are a designer, you know the importance of software you work with. It must be qualitative by default! Procadeng.com satisfied my requirements fully! I have found everything I needed here. They have a good choice of Autodesk CAD software, therefore, everyone who needs Maya, AutoCAD Architecture or MEP will find these and lots of other crucially important for designing programs. Guys, I want to thank you for your patience! I was really nervous when I couldn't download a program at the first attempt. You helped me do it and I didn't even expect such a rapid reply from your support team. Guys, thanks a lot for your excellent service. I couldn't even imagine that the work of online store could be so fast. I placed an order, paid it and the support team sent me a link where I could download the program I bought. This is a very convenient service! You don't make me wait for delivery for several days. I am the happiest customer!